We, in India, celebrate Independence day on 15 August every year. As an Indian, My hands themselves move up to salute the National Flag or our Tiranga as soon as we see it.  So, on Independence day, its all the more special. The day not only marks freedom from struggles but it also symbolizes freedom from our own inabilities, and our own limitations.
Independence Day in Childhood
During childhood, we were just interested in seeing floral petals falling down from the National flag or flying kites in the evening .In schools, there used to be so many programs like skits, dances and many other performances to pay homage to our country. It aroused a overwhelming feeling of togetherness and patriotism. What a fantastic sight it used to be! The Principal of the school used to initiate the programs by unfurling the flag.
She used to pull the rope with which the flag was tied and along with the flag, n number of floral  petals used to come,making the scene, even more vernacular. Just after that,many Tri colored balloons were left in the sky ,which added more to the charm.Sometimes, the spectacular sight became more splendid if, by coincidence, Indian helicopters were passing through the sky. Everybody, the teachers and the students remain tight lipped throughout the event. And  the silence was broken by the slogans – Jai Hind, Jai Hind! The slogans were soon to be followed by the National Anthem, when we can see the crowd standing in discipline without creating any havoc.After the national anthem , we were told again to sit down so as to watch other events.
Celebrating Patriotism Today
Today also, we can visualize the same festive spirit  prevailing in our little kiddos. But now, the children go to school  with flags and get dressed up in different dresses. All this makes the festival more interesting. Various competitions are also held in the classes. Like this time, the children had to take tricolored lunch to the school and whosoever will bring the best lunch, will be awarded. My daughter was after me to make something different. We celebrate Independence day in schools on 14 August and she was preparing me form 12 August, itself. She was like,"Mumma, what'll you make? Please let me know. But take care, it should be beautiful too. Please make the best for me."
It seemed to be a test to judge my culinary skills. I was enjoying the challenge.
Somewhat pressurized and nervous at the same time, I started preparing Tricolored rice, which I had learnt from my elders. I was trying after a long gap, so not sure whether it'll meet the expectations or not. I also bought saffron and green, edible food colors from the market. The rice was arranged as per the Indian flag. First, saffron, then white and then green color . I garnished it with chopped dry fruits.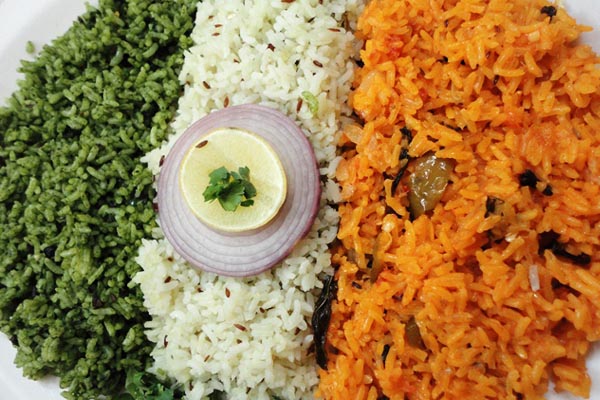 It was looking amazing and my children were praised by the classmates and the teacher. Even, the two of them relished it about which, I was highly skeptical. I got my reward there and then. Seriously!
But that's not enough.On 15 August, we fly kites in the evening.It doesn't matter if anybody knows kite flying or not ,as the fun of participating is more important.The sky gets filled up with shining kites. Some people even have kite flying competions. Sometimes, we also have get together in our our houses. The day ends but leave us much more closer to everybody present out there as it's the day when we, as relatives or friends get independence from our ego as well and shake hands to be united forever. Various people, various notions but the feeling is only one — Patriotism!
Proud to be an Indian! How do you celebrate Independence Day in your country ?
Ruchika Rastogi
, an Indian who was born and brought up in Delhi. She loves to explore the unexplored. A mother of two lovely kids, she works as a teacher and her passion for writing has helped her survive during her hard times. Her first non fiction book got published last year with the name-A Mystical Majesty-the woman. As a contributing author, her anthology with the title–Wait Till I Tell You got launched recently. With dreams in her eyes, she believes in living life optimistically.