A chill has set in the air. Leaves are turning brown, dancing away to the tune of the swirling wind. This usually means Halloween is here! 
While partaking in the fun, this is an opportunity to give the children an all round experience. Wouldn't it be wonderful to help children make this holiday about more than chocolate and character costumes? To give them life lessons crucial to their very being. 
Safety First
Being safe is always paramount. And by re enforcing the below guidelines before trick or treating, you give children a gentle reminder to always be safe.
No candy from strangers. This is for kids who go trick or treating themselves. No matter how friendly, they should be wary of taking candy from strangers or going near cars with unknown people in them.

Candy has to be brought home before being eaten. Parents should always be given a chance to go through all the candy before it is eaten to check for any allergy issues or in case it has been tampered with. Yes, this is a scary thought but a necessary precaution.

Decorate costumes and bags with reflective tape or stickers and, if possible, choose light colors so that the children can be seen as darkness falls. Have kids carry glow sticks or flashlights to help them see and be seen.

Always walk on sidewalks. When there are no sidewalks, walk facing traffic as far to the left as possible. 

Watch for cars that are turning or backing up. Children should never dart out into the street or cross between parked cars.

Make sure costumes are not too big to avoid kids tripping on them.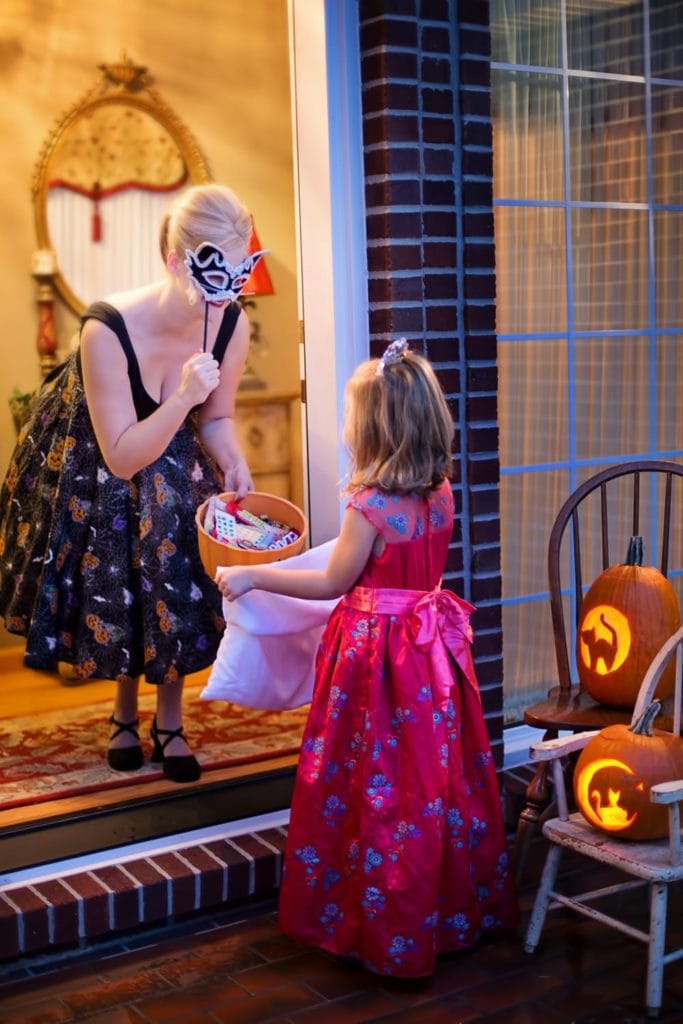 Create Costumes
Do you really want to spend $50+ on a costume to be wore for an evening or a couple of parties ? I know we think about what the fun outfits and you go, " Yay !" You immediately imagine the cute pictures your kids will be posing for. But this too can be turned into a learning experience by using your imagination to get the final output. You don't necessarily have to get Martha Stewart crafty!
Two years ago, our son wanted to be Iron man. We stuck a dollar store light on his Iron man t shirt (after a lot of trying), put on a beard and he was Tony Stark! The year before that, he wore a long, tattered black sweater and one dollar glasses with a lightning rod on his forehead with a marker and he was Harry Potter!
But discussing with your child months, maybe weeks in advance how you can get the desired output without taking the easy road and picking something. Now I must admit this
may
take a bit of convincing on your part.
The force of peer pressure and easy of shiny store bought costumes is strong but it is truly worth it when they get really into it. You can actually see the kids' brain gears moving and the spark in their eyes when they feel they have the right combination of things to throw together.
Last ear, a neighbor came to my house with a black cloth wrapped around his head. Just a cloth but he was so proud that he was a
Ninja
that I gave him extra brownie points and candy for putting in the effort. On the extremely inventive side, another kid rigged up a blood squirting apparatus to turn into the character from the movie
Scream
.
Most importantly, this helps kids subtly understand the essence of being unique and not falling under peer pressure.
Plan Pranks
Play a joke. Scare them silly. Take some time to plan some old school or new off the internet,
kid friendly
pranks. Get some gags at the store or make your own. I love playing the "I'm pulling my thumb out" joke on my kids. It freaks them out but they secretly love it (which is why they ask for repeat performances!) .
Pranks are not a necessity but teach children to be able to laugh at themselves. That being scared is okay. They learn to not take themselves too seriously, which they tend to grow to as they get older.
Planning kid friendly pranks
with
them assists in thinking ahead and anticipating reactions. Of course this should include the discussion of not playing pranks that might hurt others' feelings which will invariably educate them about empathy.
Rehearse Manners
I sadly often see kids knocking on the door, grabbing a handful of candy and walking away. This leads us to necessity of the below re iteration of etiquette with children days before the event.
Say "Trick or Treat" or "Happy Halloween". Wishing on an occasion is very essential. You need to greet anyone celebrating and specially anyone who opens the door.

Limit yourself to one. This is a great time to drive home the dying art of moderation in the face of instant gratification.

Say "Thank You". Children need to be told not everyone chooses to partake in the festivities. This makes it incredibly important to display gratitude towards those who choose to be generous this holiday.

Do not scare kids who are already nervous or make fun of kids who might have a costume mishap or get petrified of a trick gone wrong.
Use The Candy For More Than Consumption
One quarter of all the candy sold annually in the U.S. is purchased for Halloween.
Eating a bucket full of candy is not healthy in any way. Not for your teeth, not for your body and certainly not on your mind. There are many other options to choose to multiply the joy of the receiving the candy. Firstly, make sure you have a set number of candy you and the children can partake. Then,
Give to the less fortunate. Keeping your selections, the rest of the candy can be delivered to in person or be mailed to a charity of the kids' choice. Searching for a charity piques their interest to learn more about the world around them. This is a wonderful way to teach children awareness, responsibility and of course the joy of donation.

Get crafty and make gifts out of them for an upcoming occasion. For eg : with Thanksgiving right after, it is a great way to turn the left over candy into special treats for their friends to express gratitude to.

In the immediate days after, the kids can wear their costumes and take extra candy to a local senior center for an evening of

reverse trick-or-treating

.

Another wonderful sharing opportunity would be to share their left over candy with those children who for whatever reason could not celebrate on Halloween day. Have a party, extending the festivities and ask everyone who has candy to share and divide them among all attending.

Introduce the Candy Fairy. Ask children if they would like to swap out their candy with a toy. They can place all the candy into a bucket and the next morning the Candy fairy magically transforms them into a toy.

Freeze the candy or save it for later. This is the simplest thing you can do while teaching children how to save for later and indulging only as treats.
Talk About the History & Evolution of Halloween
For children interested, the historical transformation of this holiday will carry significance. Halloween is actually a celebration of Celtic origin to ward of evil ghosts and spirits. It marks the advent of the winter season as the days get shorter and winter gets longer. Historically/Culturally, this is supposed to be a day when the lines between the dead and alive blurs so bonfires were lit and costumes were donned to ward them off.
From being a day of the dead to a day when all dead, specially saints are celebrated with child like activities like the bobbing of apples and having festive parades to now being enjoyed all over the world with candy and costumes: Halloween has certainly morphed multiple times into it's most fun form. You can read more here Trick or Treat: A History of Halloween
 and fun easy to read ghost stories for the kids here – Roald Dahl's Book of Ghost Stories
Any opportunity is exponentially meaningful when used to
impart moral values to kids.
 Let kids be open to the idea of starting new traditions.
Partying and gratification aside, it is wonderful to use every chance we can to raise caring children who know how to celebrate responsibly. Wishing you you all wholesome and happy Halloween!
Read more on our book, Strong Roots Have No Fear, how to use every day moments to raise confident, global thought leaders.