The origin of Diwali is a wonderful way to explain to children, how good always conquers evil. The many stories that form the foundation of this world celebration, are a lesson in life about how to always stand true when faced with difficult choices. You may be surprised to learn, Diwali is celebrated across different sub cultures of India for various reasons. And thus, holds an extremely special meaning in the lives of many. Contrary to popular belief, not all Indians traditionally follow the same Hindu culture and yet, Diwali is  one of the most auspicious days in the lives of many. People from different parts of India celebrate this day for different reasons.
North India
Lord Ram, the most beloved prince and son is sent to exile by his father because of a promise he made to one of his wives (granting any two wishes when she wants). Laxman, his devoted brother chooses to go on exile with his brother and sister in law Sita. After years of hardships, Sita one day sees a deer she desires and on her behest Sri Ram and Laxman go after it. She consequently gets kidnapped by Raavan when she crosses the Laxman rekha (a spellbound line made outside their home to keep her safe by her brother in law). Ram and Laxman slay Raavan, saving her with the help of Hanuman an ardent devotee of Sri Ram. They all come back home to Ayodhya (on Diwali) among great pomp and show only to send her into exile all on her own when a citizen of the city raises a question of her purity after living with Raavan for so many years. She goes into the forest where she brings up her two sons. After years, when his sons cross his path in battle, Lord Ram goes back to bring his wife home. She in turn chooses to go back to Mother Earth instead. The Return of the Pandavas: Another story about the origins of the Diwali is within the great epic 'Mahabharata,' it was 'Kartik Amavashya' when the five Pandavas (brothers Yudhishthira, Bhima, Arjuna, Nakula, and Sahadeva) appeared from their 12 years of banishment as a result of their defeat in the hands of the Kauravas at the game of dice (gambling). The subjects who loved the Pandavas celebrated the day by lighting the earthen lamps.
South India
In South India, Lord Krishna slaying Narakasura. Narakasura was a demon drunk with power stole the earrings of Aditi (mother of all Devas) and kidnapped 16000 women. The Devas were unable to stop him and so they went to Lord Vishnu to reincarnate as Krishna, so as to destroy the evil demon and save the women.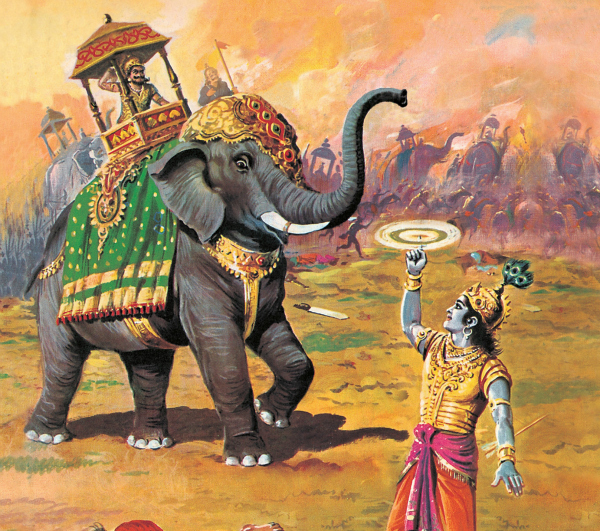 Marwaris and Gujratis
Diwali is the new year time for Marwaris and Gujaratis.  This is when the merchants close the accounts of the old year and pray to the goddess of wealth that the new year should open with even bigger increase of trade.  Kali Chaudas is devoted to the worship of Maha-Kali or Shakti as this is the day Kali killed the wicked Raktavija. Also referred to as Narak-Chaturdashi, Kali Chaudas is the day to abolish laziness and evil. Thus, many regions pray to Goddess Laxmi (giver of weath) on this day. Lakshmi is the goddess of wealth and prosperity, emerging from a feud between the gods and demons, who were tangled in a race to obtain the nectar of immortality. Consulting Lord Vishnu in this pursuit, they could successfully churn the nectar of immortality from Goddess Lakshmi, who chose Vishnu to be her companion, consequently Lord Vishnu carried goddess Lakshmi to the heavens.
Jains  
To the Jains it marks the day after Lord Mahavira attained nirvana. He was released from his worldly body on the night of the full moon. So the people of Pavapuri, where he attained nirvana, lit lamps in their doorways as a symbol of their guru's enlightenment.
According to Myth Gyan , Mahavira attained Moksha at the dawn of the Amavasya (new moon). He was cremated at Pawapuri. It is believed that many Gods were present there illuminating the darkness. But the following night was pitch black.
So people illuminate their houses in order to symbolically keep the light of their master's knowledge alive.

Sikhism
This day for Sikhs celebrates the release of Guru Hargobindji along with 52 Indian kings who were imprisoned along with him at the Gwalior fort by Emperor Shah Jahan in 1619. This day is thus also known as Bandi Chorr Diwas (meaning the day of freedom).
Nepal
Diwali is also celebrated in Nepal and the Indian states of Assam, Sikkim and Darjeeling in West Bengal. The five-day festival in these places is considered to be of great importance as it shows reverence to not just the humans and the Gods, but also to the animals like crows, cows and dogs who maintain an intense relationship with humans.
Arya Samaj
It was the new moon day of Kartik (Diwali day) when the 19th-century scholar Maharshi Dayananda, one of the greatest reformers of Hinduism and the founder of Arya Samaj, attained his nirvana. Dayananda's great mission was to ask humankind to treat one another as brothers through practices of nobility.
http://localhost/raisingworld/2017/10/12/easy-diwali-family-problems-home/
Historically 
In history, this day is celebrated as the coronation day of One of the greatest of Hindu kings, Vikramaditya. He was crowned on the Diwali day. The legendary emperor, who may have been a historical figure or based on one, is thought of as the ideal king, known for his generosity, courage, and patronage of scholars. Thus, Diwali became a historical event as well.
And thus, this day is celebrated across five days,
1. Dhanteras. 2. Choti Diwali (Naraka Chaturdasi). 3. Badi Diwali (Laxmi Puja). 4. Naya Saal (New Year). 5. Bhai Dooj. Many today, celebrate this day the whole month as the only time to rejoice available is on weekends. What is your reason to celebrate?
What does this conversation about origins of Diwali t

each kids? 
Love your family.
Support your loved ones always.
Stand by what is right.
Freedom is a birth right.
Choices have consequences.
Women should be nurtured.
Every woman has a right to make her own choices.
Above all, be loyal.
Be careful about spending and save.
Do Not –
Think ill of others.
Let ego get in the way of your relationships.
Disrespect those you care about.
Make decisions in haste.
Be selfish or greedy.