Celebrated on the 13th of January every year, Lohri is celebrated to mark the end of peak winter, this festival is traditionally associated with the harvest of the rabi crops. The traditional time to harvest sugarcane crops is January, therefore, Lohri is seen by some to be a harvest festival. And thus, Punjabi farmers see the day after Lohri (Maghi) as the financial New Year. The festival of Lohri, which is celebrated primarily by Sikhs and Punjabi Hindus all across India and is traditionally believed to welcome the sun to the northern hemisphere. Observed a night before Makar Sankranti, this occasion involves a Puja Parikrama around the bonfire with prasad.
The rituals related to Lohri symbolize the attachment of the people with Mother Nature.
You can choose to mark this occasion in any way you like.
I have been celebrating Lohri since a few years now, with friends who have shared their festivities with us. From simple celebrations at home with snacking on the traditonal peanuts, popcorn, seasame to lavish parties with all of us dressed up in Punjabi attire with our hair decked in Parandas and dancing around a bon fire.
As anyone who has ever celebrated the festival in full fervor around the bonfire would tell you–gur rewri, peanuts and popcorns are threeedibles associated with this festival. Besides these, in Punjab's villages, it is a tradition to eat Gajjak, Sarson da Saag and Makki Di Roti on the day of Lohri. It is also traditional to eat 'til rice'–sweet rice made with jaggery (gur) and sesame seeds.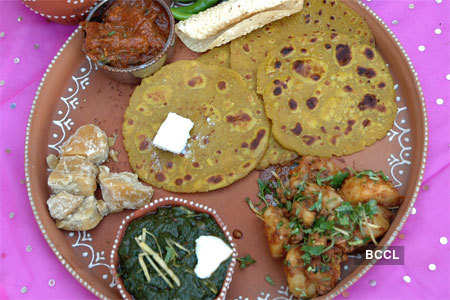 Going around the fire singing "Sunder mundriye ho!", adding popcorn, sesame etc to the fire dancing in the winters is a celebration you have to experience ONCE in your life time. It brings Punjab right into your heart.
The folklore — Sunder Mundriye — is actually the tale of a man called Dulla Bhatti, who is said to have lived in Punjab during the reign of Mughal Emperor Akbar. Being quite the 'Robin Hood' back in the day, Dulla Bhatti used to supposedly steal from the rich, and rescue poor Punjabi girls being taken forcibly to be sold in slave markets. He then went on to arrange their marriages to boys of the village, and provided them with dowries (from the stolen money). Amongst these girls were Sundri and Mundri, who have now come to be associated with Punjab's folklore, Sunder Mundriye.
Read this book about the festival of Lohri to your kids.
Lohri holds extra significance when there's a new marriage or new born in the family.
Simple ways to celebrate Lohri are –
Fly a Kite. Please don't say you don't know how to fly one! …
Enjoy snacks of peanuts, popcorn, chikki etc while sitting around a fireplace.
Dress up in parandas/colorful Indian attire.
Have Sarso Da Saag and Makki Di Roti.
Light up a bonfire.
Dance around the fireplace with your friends and family.
Read a book or watch videos about Punjabi folk tales/Lohri
You can see the fun of Lohri in this song from the movie Veer Zara. It wonderfully captures the essence of this festival. Colorful dresses, teasing between friends/family, food and dance is a big part of most Indian celebrations.
Have you heard of this festival before? Would you bring the warmth of Lohri into your home?