In a time when we are so secluded, it is so much more important now than ever to teach kids about diversity and inclusion. For the danger is now more than ever for them to get a one sided view of the world, that is more a rainbow than just one color.
Today, I bring to you books by various authors from around the world who have written books that promote the same.
What is diversity?
It means understanding that each individual is unique, and recognizing our individual differences. These can be along the dimensions of race, ethnicity, gender, sexual orientation, socio-economic status, age, physical abilities, religious beliefs, political beliefs, or other ideologies.
What is inclusion?
The action or state of including or of being included within a group or structure.
A global world view, building kindness and social skills all need a child to understand the essence of these two.
And what better way than books that are different in the WAYS they bring these topics forth.
For if we hope our children to grow to build a world together, to be allies of each other and stand tall, we want them to know all the above, from within.
Download our FREE ACTIVITY BOOK for helping kids build a global mindset early.
UNIQUE CULTURES
Created by an elementary teacher to educate and inspire, children will love learning about the Taíno culture through the retelling of their indigenous folklore, bringing an ancient cultureー and a young loveーto colorful life. This is a beautiful retelling of an old Taino legend about how the hummingbird was created. The way the story is retold is both easy for children to understand but not "dumbed down" either. I enjoyed the story and found the illustrations bright, colorful, and descriptive.
Join Neel and Maya as they tour India and celebrate festivals full of color and joy. You will be astounded by the various traditions and cultural traits the books in this series have. It is so wonderful to show a bridge between our US Diversity and the country of cultural origins and to show young people engaging in understanding their heritage. It was so well written to explain the celebrations.
This book takes kids to a world away and opens their minds to a cultural experience outside of their world. It's an English book with references and details on real locations. This story takes children through the heart of the city, which is full of wonderful history and vibrant places.

This bilingual book is targeted at Mandarin Immersion students, but can be read by non-native speakers of Chinese.About the Author: Edna is a physician anesthesiologist and mom, who was motivated to write a bilingual Chinese children's book, inspired by her son's friendship after he enrolled in a Mandarin immersion school. She found a limited selection of books for this age group. So she created these stories to include English and Mandarin with pin yin, to facilitate different reading levels. Her stories celebrate friendship and cultural diversity.
Womagis is illustrated as an innovative template, displaying 18 languages simultaneously, as a multilingual frame. Each language changes its place from page to page, so the book is also a game, where you must look around in order to find your native tongue, just like a smart detective. It includes some activities to inspire parents and educators so they can work together with the children by creating a universe of adventures and games around the book. Womagis is a new book that inspires children to create their own language of tolerance and love, all in one story, all in one page!
BODIES & ISSUES
Devin's Discovery is a story about an ordinary boy who happens to wear orthotic braces. He realizes he's not as different as he thought as he discovers there are many other children who need special orthotics and prosthetics to support them, too! A story of acceptance and embracing what makes us all unique, this is a book for EVERY child! Devin and his three friends represent four unique ethnic backgrounds, which adds to the elements of diversity and inclusion already portrayed throughout the story.
From the letter A to the letter Z, B is for Breathe celebrates the many ways children can express their feelings and develop coping skills at an early age. Fun, cute, and exciting illustrations, this colorful book teaches kids simple ways to cope with fussy and frustrating emotions. This book will inspire kids to discuss their feelings, show positive behaviors, and practice calm down strategies.
In this heart-warming tale about a mother and daughter, first-time author Kelly Vurinaris captures the beauty in human differences.She takes the reader through everyday experiences in the life of Chloe, a little girl with facial differences. Since she's been going out into the world, Chloe notices people staring at her. To connect with others and break down initial barriers, she quickly discovers that she just needs to introduce herself. It helps kids identify that being different is okay, and that we are all people. It is the perfect story for parents or teachers who want to teach children about inclusivity, and how everyone has equal value no matter how they look.
Relocating to Israel is bound to be an unforgettable adventure for 11-year-old Megan, 8-year-old Noah, and their little sister, Elise. But a whole new country, backwards-written language, and leaving everything they've ever known? Should they be excited or terrified? While their dad starts his new job and their mom works out the details of the clinical trial for Elise who has Cerebral Palsy, Megan and Noah explore a nearby tunnel – discovering magic and cryptic messages. Noah's excited about the amazing flips he can do, while Megan is certain the magic must be an incredible opportunity – but for what?
Beyond the Clouds
My book is about a girl named Kippi who goes to visit her grandfather in his cloud house after he passes away. She learns that even though he's gone, he'll always be with her, watching over her. I think it's a very important topic for children, especially in today's world.
How Our Skin Sparkles is a book of empowerment through acceptance, of self and others. With easy to read rhymes, sibling love and thoughts to explore, this story talks about how one can truly see everyone as they are inside. This book is a must have for any child who wants to learn a little more about themselves, the world around them and how we truly sparkle! The Raising World Children – Empowerment Series for books for global kids is geared for kids aged 3-10. Perfect for boys, girls, early readers, primary school students, or toddlers. Excellent resource for counselors, parents, and teachers alike.
How do you answer this question, when a child is 'from' multiple countries, can speak and understand many languages and is not living in the country they were born in? Children from seven countries each have a turn to answer in their own way. Each answer is correct, and yet still not the whole picture. When the youngest takes his turn, he shares a different view, one that has nothing to do with borders on a map.
ANIMALS THAT HELP
Schneider the Spider is the biggest and brownest daddy longlegs in the woods. His big stature and spiky hind legs scare other spiders away. Sad and alone, Schneider finds an unusual friendship in a butterfly. Together, the duo flies around the lake and meets other unique and kind friends along the way. Schneider finds something special with all his friends and begins to accept his differences. This story sends a message that we are all different and unique. Schneider the Spider pairs well with any Character Building Curriculum to encourage kindness, compassion, appreciation, respect, attitude, and empathy.
Rexie is one cool dinosaur. He loves an epic imaginative adventure and he has one, every day of the week. Rexie has a bionic arm that he uses for daily tasks, like brushing his teeth. He doesn't mind being a little different than the other dinosaurs. Although he may seem like a pretty ordinary T-Rex, he is extremely unique in how he views his world. Rexie and his sidekick, Dax, go to some exciting places and escape some powerful characters along the way. The Unstoppable Rexie is about being kind, being yourself, not letting any obstacles get in your way, and having some major laughable fun. Everyone can be Unstoppable, just like Rexie.
The Purple Grasshopper follows the journey of a quirky grasshopper who struggles with accepting that she is different. She tries to be like the other grasshoppers at first, but quickly learns the power of self-love and that friendship is abundant. Celebrating your uniqueness is not as difficult as it might seem!
Helix and Sammy live on opposite sides of the garden fence. When Helix discovers what life is really like on Sammy's side, there begins an adventure of revelations and revolution. Every evening, best friends Helix and Sammy meet at the vegetable patch to feast on delicious lettuce. Shells is a book aimed at helping young children better understand systemic racism, the nature of privilege and the importance of standing up for equal opportunities for all.
Industrious honeybees are a great way to deliver the message that working hard and contributing to society are important. This book will offer great opportunities to parents to discuss the importance of bees to the well-being of the planet and all of us who enjoy it. This first book is about 'making a difference,' with the aim to show readers that we can all contribute to society in our own way. We don't have to be rich or famous or like anyone else to make a difference. It is more important to be ourselves.
DIVERSE CHARACTERS
J.R. 's Biggest Fan shows the never-ending encouragement a mother gives her son. This heartwarming story teaches that with every failure, keep trying, believe in yourself, and you will always have the love and support of your biggest fan, your mom. It is critical for children to see diverse characters in a book to broaden their world view.
Aurora, a beloved mom to four young children, is determined to create memories with them in her childhood home in Rincon, Puerto Rico. One year, she plants an orchid with her children and spends the summer teaching them to tend to it in the hopes that it would grow into the beautiful plant she knew it could. As the days, weeks, months, and even years pass, Aurora teaches her children patience as they skeptically wait for the flowers to bloom.
Readers are left with a sense of pride in family, and also themselves. Sister Girl is easy to relate to and the message of not giving up can be received by anyone, at any age. The Sister Girl Collection is an empowerment tool to encourage young girls to be courageous, creative, and live productive lives. Each book teaches a new lesson, skill, or touches on exploring the world. Readers can grow with Sister Girl as they also experience new things in their own lives. Families can add this collection to their home library, sharing the stories and lessons for years to come.
My Journey with Jimmy
My Journey with Jimmy is a simple story about a girl who grows up befriending a boy from school of a different race named Jimmy. She expresses her appreciation of Jimmy's kindness towards her over the years. As their friendship grows. she admires Jimmy's helpful personality. When Jimmy decides to help others as a police officer she decides to follow his lead. This is a great story to start a discussion with early readers about diversity and civic responsibility. The story is written in meter and prose to make it easy for young readers to follow along.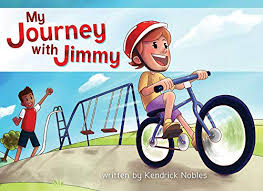 Join 6 cute kids with beautiful curly hair in a colorful, fun story as they deal with the biggest daily hurdle for any toddler: What should I do today? mTargeted to children ages 0 – 4, it is a fun and engaging read that features simple wording, bright colors and whimsical artwork.
FOR PARENTS
Winner of the global literary Author Academy Award and Royal Dragonfly Award, this book is a must for your personal library for growth as a parent. Aditi Wardhan Singh is a leading voice on growth mindset and cultural sensitivity. This book has heart warming stories, easy to implement ways and conversation starters that enable you to use your child's strengths to make them independent, with good decision making skills. Building a global mindset that helps children stay rooted in their heritage and values.

This is the uniquely empowering guidebook to the bilingual / multilingual and multicultural parenting journey. It includes practical tips and ideas for even greater success raising confident and resilient kids of mixed ethnic backgrounds who can speak many languages.
To have us feature your book, email contact@raisingworldchildren.com .